Top posting users this week
Who is online?
In total there is
1
user online :: 0 Registered, 0 Hidden and 1 Guest
None
Most users ever online was
35
on Wed May 15, 2019 3:48 pm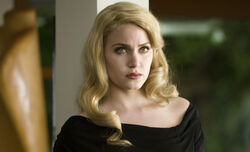 Full Name:
Rosalie Lillian Hale
Nicknames:
Rose, Kitty (By Carlisle), Ice Cold Barbie (By Jacob)
Age:
18/102
Hometown:
Rochester, New York
Current Residences:
Forks
Species:
Vampire
Sexual Orientation:
Heterosexual
Occupation:
n/a
Hair Color:
blonde
Hair Style:
long
Eye Color:
gold/ black when hungry
Body Type:
slim
Height:
5'7
Other Distinguishing Features:
mole above lip
Clothing Style:
varies
Rosalie is described as being narcissistic and self-centered, but extremely loyal to her friends and family. She became very shallow and naive as a result of the attention and love caused by her beauty as a human, and had never been envious of anyone other than her best friend Vera, who had found love in her marriage. Even so, she thought her human life was perfect. Rosalie enjoys the effect she has on men who become easily stunned by her beauty and women who become jealous of her; however, because of this, she is not happy when someone else appears to be more attractive than her or receive more attention than her.
Rosalie has a hobby of enhancing cars and doing anything mechanical. Like Edward, she is a musician, though not quite as good. Her mechanical skill is the one trait that surpasses her brother's. She also enjoys decorating her closet and admiring herself in the mirror.
Rosalie treasures humanity more than anything and often wishes she was still human; her desire is so great that she is willing to trade anything and everything she has for a second chance at being human. Always wanting children of her own, Rosalie supports Bella's decision to keep her daughter (who Bella initially thought was a boy), and her former resentment of Bella eventually turns into a sisterhood. After Renesmee was born, Rosalie takes care of her, while Bella undergoes the transformation into a vampire. Rosalie can appear to be bitter and cold, due to being beaten and raped by her ex-fiancé and her depression over being a vampire, and angers easily. She learns to appreciate life as a vampire after finding Emmett, as she had gotten "half of her happy ending".
Father's Name:
unkown
Age:Species:Occupation:Status:
( Living or Deceased )
Mother's Name:
unkown
Age:Species:Occupation:Status:
( Living or Deceased )
Sibling's Name:
Age:Species:Occupation:Status:
( Living or Deceased )
Other Key Member's Name:Age:Species:Occupation:Status:
( Living or Deceased )
Pet's Name:Age:Species:Status:
( Living or Deceased )
General History:
Rosalie Lillian Hale was born in Rochester, New York, in early 1915; she had two younger brothers, a housewife for a mother, and her father worked at a bank. Her father's job helped keep the family wealthy during the Great Depression. She was born beautiful and constantly praised, making her vain and self-centered as a result. Her parents took pride in her looks, which she enjoyed. She also enjoyed her father's pleasure in buying her beautiful clothes, her girlfriends' envy, and the admiration of every man she passed. The result of all this attention was that Rosalie tended to be self-absorbed, shallow, and materialistic. However, unlike her social-climbing parents, who always wanted more out of life despite their already elevated status, Rosalie was just happy in the knowledge that she was Rosalie Hale, and that she was very beautiful. She was, however, bothered by the superior beauty of the members of the Cullen family: Carlisle, Esme, and Edward, but because she hardly saw them, she did not let that get the better of her.
One day, Rosalie's mother had her dress up to deliver her father's forgotten lunch to his job, in the hopes that the son of the bank's owner would take notice of Rosalie, and it worked. Royce King II sent roses to Rosalie and, after making a comment that her eyes were like violets, Rosalie began receiving them, too. Their relationship was solely based on physical attraction, as Royce was often too busy at the bank. They became engaged and one week before the wedding, Rosalie visited her good friend Vera, who Rosalie envied for her baby boy. At one point, when Vera's husband kissed her, Rosalie finally noticed the lack of love in her relationship with Royce that was so obvious in Vera's. While walking home, shaken by her thoughts about her loveless relationship, Rosalie stumbled across her drunken fiancé and his equally drunk friends; Royce bragged about his fiancée's beauty which eventually led to Rosalie being brutally gang-raped and beaten before being left in the street to die.
Rosalie was found by Carlisle, the scent of blood having attracted him to the dying girl. He carried her to a room where he turned her into a vampire, worsening the pain she was already in. She awoke to the voices of the Cullens arguing with Carlisle about him saving Rosalie. Edward was unhappy with the idea that Carlisle had changed her in the hopes that she could be his mate: Rosalie was furious at Edward's rejection, even despite her own lack of feelings for him as well. Her vanity still needed feeding and she was surprised and hurt that Edward wasn't attracted to her. Upon seeing her reflection, Rosalie's unhappy mood increased with her now improved vampiric beauty, because it meant she was no longer human. Rosalie soon avenged her death by killing Royce's friends one at a time. Having saved Royce for last, Rosalie donned a bridal gown for dramatic effect and found him locked in a windowless room with a thick, vault-like door guarded by two men. Killing the guards, Rosalie entered the room where she tortured Royce to death. Though she killed seven men, she was very careful to not spill even the smallest drop of their blood, knowing that she wouldn't be able to resist and repulsed by the idea of having any part of them inside her. After her revenge, Rosalie begrudgingly joined the Cullen family. Carlisle had intended for Edward and Rosalie to be like he and Esme were, but Edward only loved Rosalie as a sister.
Two years after her transformation, in 1935, Rosalie stumbled across a young man named Emmett McCarty being mauled by a bear outside of Gatlinburg, Tennessee. Emmett's features reminded her of Vera's young son Henry, and, because of this, Rosalie chose to rescue the dying man. Rosalie resisted the urge to drink Emmett's blood and carried him over one hundred miles to Carlisle, who then turned him into a vampire at her request. Emmett accepted his new status quite well, and became Rosalie's mate. They rarely separated after this; the two having found in the other their true soul mate. Edward had once told Bella that they were always together, and it was hard to be in a five mile radius of them. The pair would marry often and sometimes lived separate from the rest of their adopted family so as to live as a newlywed couple. In 1937, while living in Forks, they were discovered by Ephraim Black's pack of shape-shifters. To secure both sides, the Cullens and the pack made a treaty: they shall not attack or expose the Cullens unless they bite a human or cross over to the Quileute traditional lands. They moved away sometime after the agreement was made.
By 1950, the family welcomed two new additions, Alice Cullen and Jasper Hale. Due to their similar features, Rosalie and Jasper would often play the role of biological siblings, even twins. During the long decades of her life, Rosalie developed a passion for collecting cars akin to her adopted brother Edward, and is a brilliant mechanic. She has attended several high schools and universities, and earned degrees in electrical engineering, business, and astrophysics, and has also studied medicine to help Carlisle keep up-to-date with the latest advances.
Rosalie moves to Forks with her family two years prior to the beginning of Twilight. She is furious when Edward saves Bella Swan from being crushed by a car and accidentally gives their secret away. At one point, she planned on killing Bella to solve their problem, but Carlisle and Alice persuaded her otherwise.
When Edward and Bella begin a romantic relationship, Rosalie becomes jealous of her, because she is able to get Edward's attention after she came to believe that he wouldn't be fond of anyone on Earth. Another reason is that she thinks Bella has made a mistake falling in love with a vampire. Because of these reasons, she ignores her at all costs, and even stays absent when Bella comes to meet her family.
After a while, she and Bella became friends and even sisters after Bella married Edward. When she found out that Bella was pregnant, she couldnt have been more excited. She loved the idea of a baby in the home since she never got to have her own even though she always wanted to. During the baby's agonizing birth, Rosalie tries to deliver the baby, but the massive amount of blood overwhelms her and she loses control. Jacob kicks her out of the room before she can attack Bella, then proceeds to help Edward delivering. Once she regains enough control, she takes the baby away to give Edward free hands in the transformation of Bella into a vampire. She cared for Rensemee as if she were her own daughter, always trying to spend time with her. After Renesmee was born, Rosalie fully accepted Bella.
Family Background:
( One or More Paragraphs )
Unkown
Friends:
The Cullens
Frenemies:Boyfriends/Girlfriends:Enemies:



Posts

: 5


Join date

: 2017-04-12




---
Permissions in this forum:
You
cannot
reply to topics in this forum